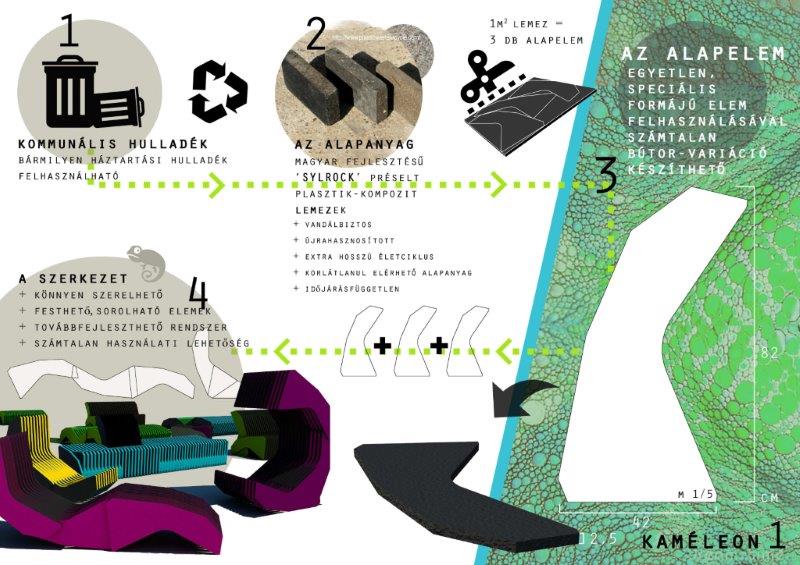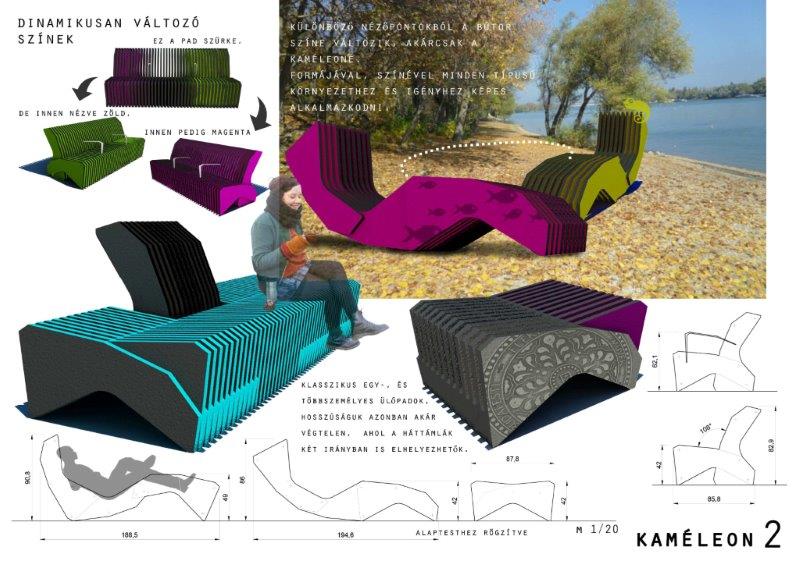 Venue:   Budapest
Competition:   Street Furniture Design Competition of Budapest
Eredményhirdetés:   2015.25.  Marcius
Design: Balazs ALMÁSI, Dora Csilla PAPP
Díjazás:  Special Prize of Creative Recycling
Chameleon
Like the chameleon it's always changes its form and color depending on the environment. Its characteristic appearance enables any member of the furniture is recognizable from afar. Creates an identity in the lowly-favored environment. Even in housing estates.
Innovation covers both the material and the construction of the furniture.
Material
The furniture is made of recycled material. The environmentally-friendly raw material¹ is based on a Hungarian invention that recovers unused waste (residues after sorting) contaminated mixed plastic waste. The raw material and the outdoor furniture made from it are unbreakable, vandal-proof. "Hammer", acid, alkali resistant and extremely long lasting. As a plastic, it provides a comfortable seat surface, both in summer and winter, it is easy to clean. Whether put on the lawn, contacting the ground it does not rot, it does not corrode. It is also resistant to winter salting.
The structure
Thanks to the innovative structure, the furniture with different functions and appearance is made up of just one basic element. According to well-chosen proportions, the furniture is comfortable and versatile. Economical maintenance and economical operation, since the structure is made up of a single element, it is easy to mount and improve, so the component that may be defective can be replaced. The furniture at a great value ratio, partly due to the long lifetime as well.
 SYLROCK, Mihaly SZILVASSY
Mentés
Mentés
Mentés
Mentés